Your Favorite Angel Reveals What Awaits You In The Near Future.
These angels carry positive emotions. Your favorite one reveals something positive about your future.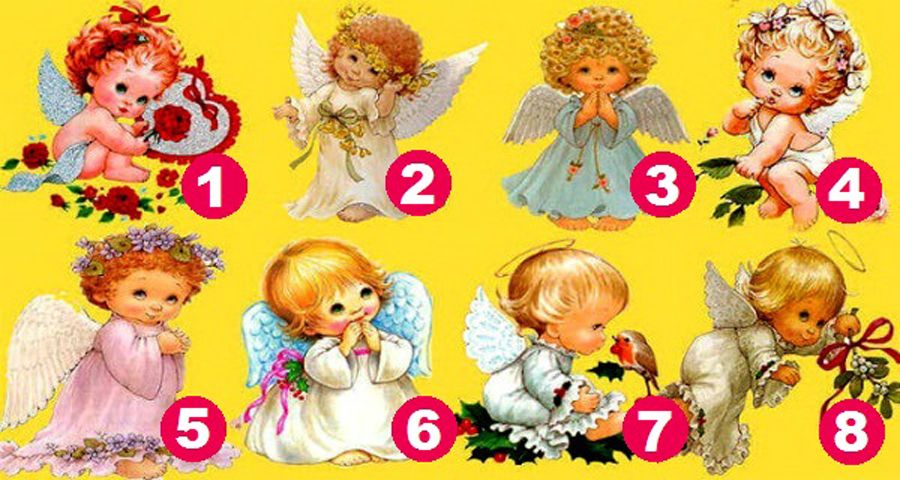 Would you like to know what awaits you in the near future? Look at the picture, then choose an angel to foresee your future.
So, which of them did you like the most?
You chose Angel no. 1 - The Angel of Love
This angel is the patron of love. If you have chosen him, you should know that you will experience pleasant love surprises soon. It might be a new acquaintance or a romantic lure of a loved one.
You chose Angel no. 2 - The Angel of joy
Be assured, the angel of joy tells you the warmest and most emotional feelings. In the next few days, you will participate in extraordinary events that will bring you pleasure and happiness.
You chose Angel no. 3 - The Angel who fulfills the desires
This angel fulfills the desires. If you have chosen him, expect the fulfillment of your wishes soon.
You chose Angel no. 4 - The Angel of Curiosity
The Angel of Curiosity predicts a great adventure, which will bring many pleasant experiences.
You chose Angel no. 5 - The Angel of Inspiration
The Angel of Inspiration tells you that it's time for you to get the courage to do what you have long wanted but have not done so far.
You chose Angel no. 6 - The Angel of Harmony
An angel of harmony will bring you peace of mind. There is no need to worry about the problems. Soon they will disappear and solve themselves in the best possible way for you.
You chose Angel no. 7 - The Angel who brings good news
This angel brings good news. If you liked him the most, expect pleasant news that will delight you in a few days.
You chose Angel no. 8 - The Angel of happiness
This angel of happiness promises the successful completion of all tasks, even if, at first glance, it seems impossible.
---
Call the Angels, pray to them. Your wishes and dreams are immediately fulfilled as soon as you realize the power of teaming up with your Angels. Nothing is impossible for them to handle.
Here we share two prayers with you from our book of angelic prayers.
An Angelic Prayer to Release an Attitude of Victimhood and Awaken Your Inner Power
Try this angelic prayer! As soon you overcome your attitude of victimhood, you step into your spiritual mastery and awaken your inner power.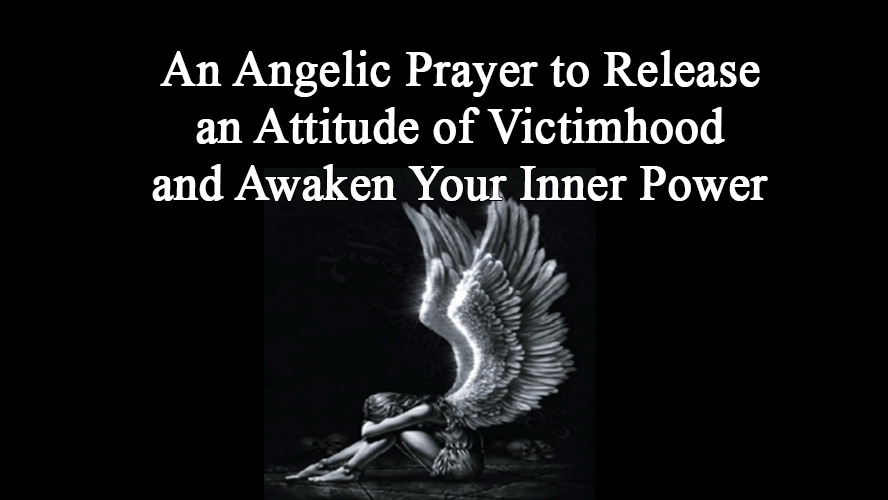 Dear Angel,

please, help me remove all the negative feelings and thoughts that make me think and act like a victim. Give me guidance so that I may stop complaining about misfortune and take responsibility for my life and my happiness. Help me overcome the attitude of victimhood and step into the power of my spiritual mastery. Every time I fall into the pitfalls of this mental attitude, remind me of the powerful, divine being that I am.
Amen.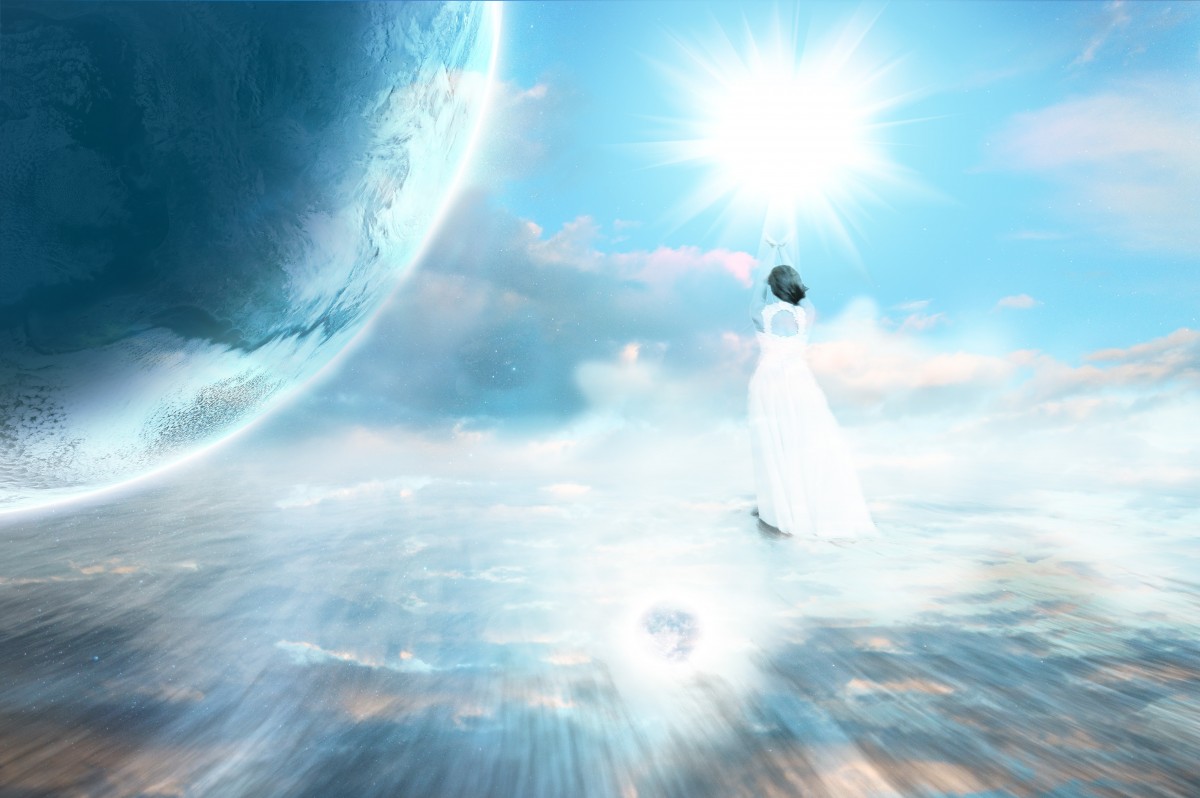 An Angelic Prayer for Faith and Miracles
Faith doesn't make sense. It makes miracles. Here is an angelic prayer for faith and miracles!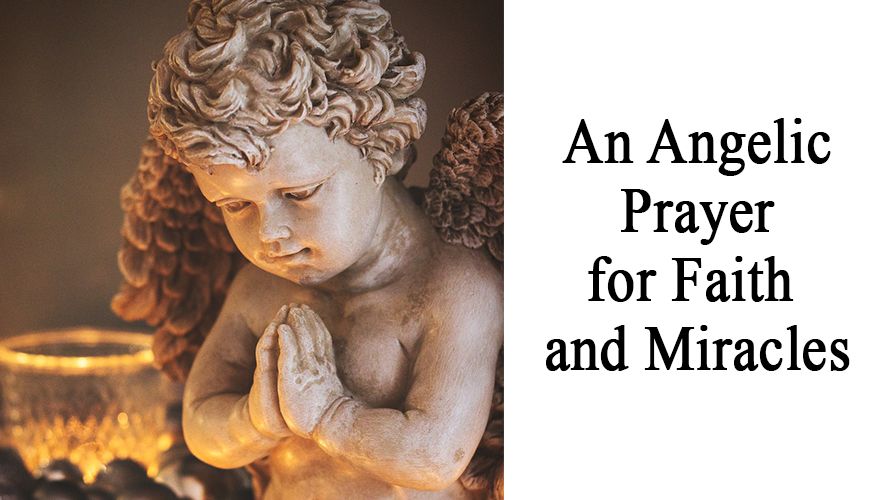 Dear Angel,
when I feel powerless, when I feel hopeless, when I feel weak, please, remind me that even with a little faith, as small as a mustard seed, I can move mountains. Help me release fears, doubts and restrictive beliefs so that I may embody the spiritual power within myself. Cleanse me from any self-limitation and make me a generous and powerful miracle worker. Purify me so that I may let the light of the Divine shine in my life and throughout my life. Offer me the confidence I need to go forth so that I may see the miracles that arise from believing and trusting.
Amen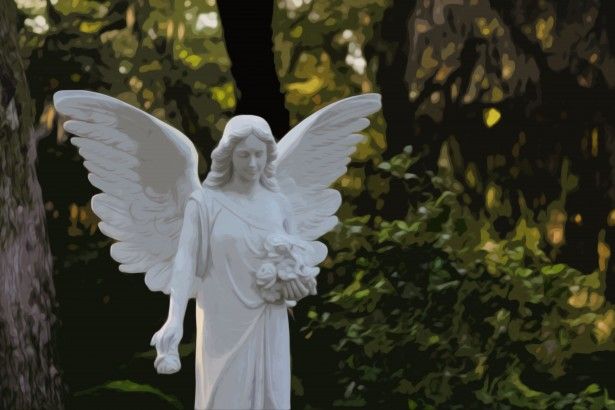 Remember this: every prayer is being listened to, at any time, by your Angels. Every prayer is answered and Grace is always granted. You are unconditionally loved by Angels.
Imagine that your desire has come true. Do not focus on 'how' it has happened, but only on the fact that it 'has happened'. Imagine what you would like to achieve in your life, then start to feel as if you had already achieved it. In a prayer, what always matters is the feeling of being and of having what you wish for.
Imagine, for example, that you wish help from your Angels in manifesting a new job. You'll have to be in fine tune with the essence of what you want and 'see' yourself in your new job. You need to dive deep into the vibes and feelings of having what you want to create. When you set an intention with a mindset of openness to receive, you affirm that what you are seeking is already being provided, is already created and made available for your use.
As you learn to clear out blocks, patterns, and karmic connections that no longer serve you, you are better able to receive your heart's desires You start to see that all is in Divine Order and you can relax more into acceptance of what flows in your life.
Be Grateful
To thank the Angels is really important, but not for them, because giving is their true nature. They give for the pure joy of giving. To thank them is important for you because gratitude always brings more blessings. The feeling of gratitude is like a signal that you send to the Universe showing that you are open to receive.
It's like a powerful magnet that attracts complementary energies into your life. This is why you have to send your gratitude to the Angels even though they have no need for thanks.