How To Cure Anxiety and Depression With The Help Of Archangel Raphael
Here Are Some Precious Tips About How To Cure Anxiety and Depression With The Help Of Archangel Raphael.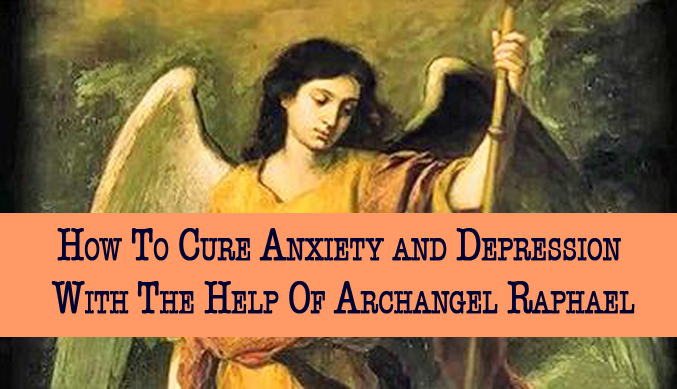 Blessings! Today I wish to help you look to treating and curing anxiety and depression.
For too long, it has been considered that adding chemicals to alter the human brain's chemistry, is a way to treat anxiety and depression, but I feel it is important for you all to look at how damaging this is, because instead of allowing the body to re-balance itself, the chemical compounds administered to the body, over–ride the natural healing process.
Depression occurs when you become disconnected from your soul.
The soul which resides in the heart has a special link with the brain, by way of an ethereal cord. This ethereal cord, which connects to the pineal gland, relays energies between the soul and the brain. Your brain protects your soul, by filtering information received from external and internal experiences.
When the soul is ignored, this relay of information becomes stilted, and therefore the body utilises its energy to try to stimulate the relay of energy. Due to the body utilising the energy in this way, the first symptoms you will begin to feel, is generally run down, lack of appetite, and a lack of energy.
Over a period of time, as the body loses its energy, the brain tries to kick-start the body's energies to rebalance the ethereal energy flow, and when this happens, anxiety attacks occur, as a result of energy flows impacting upon the body, but not being expended. The body cries out to release the energy through exercise. The conscious mind struggles to cope with the excess energy, therefore reacts in fear.
This disconnection to the soul is relatively easy to restore, if a holistic action plan is put into place. When no action is taken, the more the soul disconnects from the mind, the more you disconnect from your own needs, and your loved ones.
First rule for treating anxiety or depression, is to begin some form of gentle exercise; whether it is swimming or walking, it matters not. The body needs to stimulate how it deals with the energies that are flowing through the body.
A wide various diet, rich in herbs, spices and fresh vegetables, need to be incorporated into the diet; particularly root vegetables, to help the root chakra feel secure and safe.
Some form of creative or self-expression needs to take place. It is important to realise, the reason why you have disconnected from your soul, is because you have allowed your emotions to be hidden and pushed away. When you ignore your emotions, you ignore your soul.
Counselling can help, but there are very few counsellors, in my opinion, who really help you put together an action plan for dealing with your issues. Many are under the impression that if you talk about your problems, they will go away. This is not always the case, it can just keep reinforcing your issues.
It may be helpful for you to look at your childhood, and see where expectations, or experiences may have caused you to restrict aspects of your soul that you believe are unworthy, or things that you should be ashamed of. When you are able to identify these issues, you will then be able to see what is valid, and what part of the experience is invalid. It is also important to focus on what you are feeling, in order to heal.
In modern society, the programming you receive, is to shun your emotions, and for quick periods of happiness, find solace in the material things, like gambling, food, shopping. In reality, the quickest remedy would be meditation. In meditation, you shut down the conscious critical analytical side of your brain, and enter into communication with the soul.
Your soul really does have all the answers of what you need, and how to get it.
Pills are not the answer to your issues. They are merely a sticking plaster, which sends you down the path of consistently poisoning your body, and upsetting your immune system. Depression is caused through you not being willing to be accountable for where you are in your life, and how you got there.
This sounds cruel, I know, but the body is a finely tuned instrument; it is constantly fine-tuning and rebalancing its energies. When you ignore you emotions, when you then eat food which does not help feed your body the right energies, everything goes down the pan.
If you are depressed, it is because the choices you have made, and are continuing to make, are not in alignment with your soul's urgings. It may be, that you are not in the right relationship, the right profession. It may be that you are an artist, but through fear, stick to tried and tested theorectical and methodical tasks. It may be you are really a social butterfly, but due to a lack of self-esteem and confidence, you hide yourself away from society.
I hope you can see, really see, that the beginnings of anxiety and depression, are your soul's way of saying it is time to change your life and your lifestyle.
If ignored, then you can greatly find yourself disabled through crippling fear and fatigue. If this happens, One; go straight back to my first piece of advice. Even if it is a walk around the garden, put one foot in front of the other, and get moving. And two; this will sound silly, but get a colouring book and some pencils and colour in pictures. Look at the colours you use. These will give a way of stopping focusing inwards upon all your problems, and allow the mind to enter into a state of calmness. If you don't like to colour, a bit of gardening, writing, or reading, again will help. Best of all, listen to guided meditations, or self-help motivational audio programmes.
You have to retrain your brain to let go. Look to designing your life from the inside out. The more you focus upon your passions, the quicker your recovery.
If one of the brick walls you face is: what you want to do is restricted by a lack of money; then look at what you 'can' do, to make the first steps to creating change. It may be that you have to first lose money, for example, give up your job, in order to return to education, to give you the boost you need.
Remember, life is a series of choices. Choose wisely, and listen to the urgings of your soul, and you will eradicate depression and anxiety.
If you have unfounded fears, look to hypnotherapy as a way of dealing with them. There are many ways in which you can learn to listen to your soul's urgings. All it requires is for you to train yourself, and become more adept at decoding your body language and emotions.
Blessings,
Archangel Raphael
Article source archangeltherapy
Please Note: this article has been re-posted without prior written consent by the original Author. Link to the original article and site can be found above this disclaimer. If you are the Author of this post and you think that we are not re-posting it under the realm of 'fair-use', please contact us earthangelshouse@gmail.com