Your Favorite Pendant (Necklace) Reveals What Type Of Woman You Are!
All you have to do is to select one of these 6 beautiful pendants to reveal what type of woman you are and to receive a message on how to improve your life!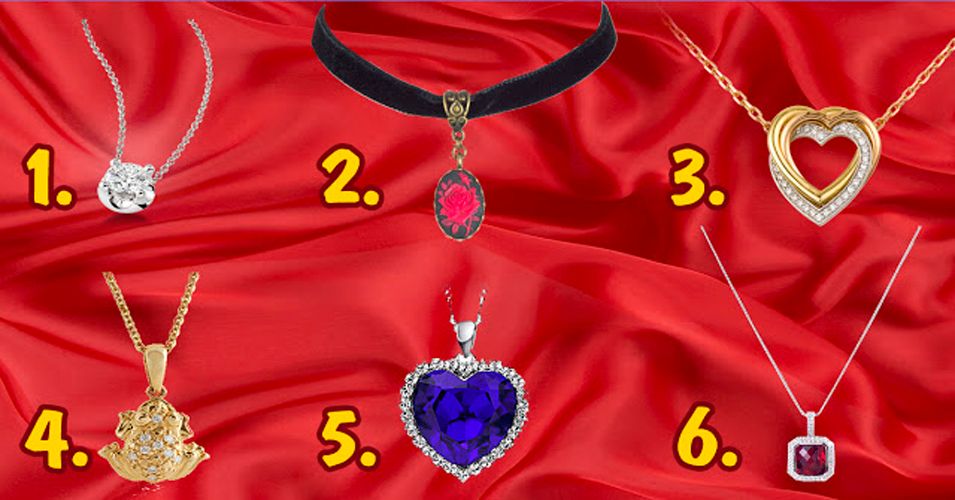 Pendants are lovely lockets and charms that display brightly colored gems, sparkly diamonds, and iridescent crystals. Jewelers create numerous patterns and designs with pendant-styled accessories. For example, consumers can purchase pendants in heart, animal, or geometric shapes. Furthermore, the adornment style enhances apparel that features plain necklines while beaded necklace strands combined with a striking pendant will increase an outfit's appeal.
All you have to do is choose one of these 6 beautiful pendants, all different is style and shape from the others, to reveal what type of woman you are and to receive a message on how to improve your life!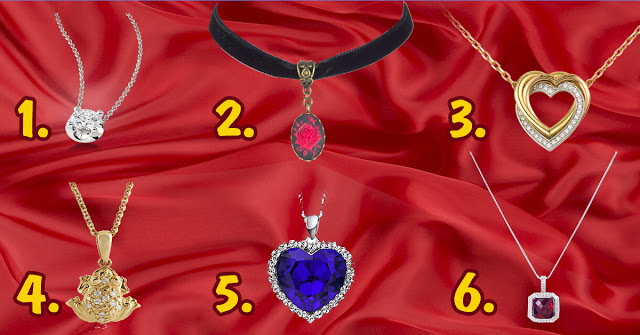 Pendant 1
You are very feminine, you like to dress up beautifully and make your hair. First of all, you'd rather spend money from your budget to buy new cosmetics or some kind of personal care, than food or things for the house. Also, for you, your family is very important, but you pay more attention to the husband and not that much to your children.
Our advice: appreciate these wonderful qualities in yourself! After all, it's so difficult to find a girl who managed to save all her femininity. Try not to be passive and not to be lazy, but stay calm and graceful at the same time.
Pendant 2
Your emotions are on a par with your brilliant intelligence. Looking at you, you remember the saying "The sexiest thing in a person is his soul." Every moment in your life has value, and each experience in your life is a little deeper and more emotional than everyone else. However, you, like no one else, are able to cope with difficulties. At the same time, you have a very original way of thinking and your own style and ability to defend your principles.
Our advice: use your opportunities for the benefit of yourself and the people close to you. And don't you dare to fall into pessimism, because all your depth is an indicator of your inner maturity.
Pendant 3
You choose conciseness and minimalism. Both in your style of dressing up and in your way of life you don't like anything that's superfluous. You are very cheerful, active and always in motion. That is why you are very mature person who lives without prejudice and with ease in the soul.
Our advice: keep a balance between excessive activity and self-knowledge.
Pendant 4
You are a real fairy! You love to do needlework (sewing) and from ordinary cloth you can make chic and stylish clothing for you or your kid. You creative approach is above anything and anyone. You are looking for a family man and your family is the most important thing in the world.
Our advice: you need a personal space, because inspiration is born in silence. Remove unnecessary deeds and unnecessary people from your life and devote time to yourself.
Pendant 5
You have a steel character and iron nerves. You have an indomitable desire to manage and expand your own boundaries. You have a very sharp mind, a quick reaction and a business grasp. In relation to other people, you are very demanding person and you are very careful who you hang out with. Maybe that's not in vain, because you are guided by life experience.
Our advice: don't work all the time, stop from time to time and rest. You will use this free time to clear your thoughts and learn to find peace and harmony in your life.
Pendant 6
You are a real peach! Your soul asks for eternal joy, luxury and brilliance. Your outfits are extravagant, and your decorations shine brighter than the sun. You let your emotions out without thinking, as a way to "blow off some steam". Your work and career might not be the most important thing in your life, but you will not be content being the worst and your competitive spirit will shine and you always find a way to do your job completely without much strain.
Our advice: try to restrain your emotions a little, because you can offend the people close to you. If there was a mistake on your part, then don't forget to apologize, for forgiveness is a feature of the real queens.
Article Source: zen-magazine
Please Note: this article has been re-posted without prior written consent by the original Author. Link to the original article and site can be found above this disclaimer. If you are the Author of this post and you think that we are not re-posting it under the realm of 'fair-use', please contact us earthangelshouse@gmail.com