Pick A Card To Receive A Special Message From Spirit
Choose a card and discover areas in your life that may need more healing, more attention, or more appreciation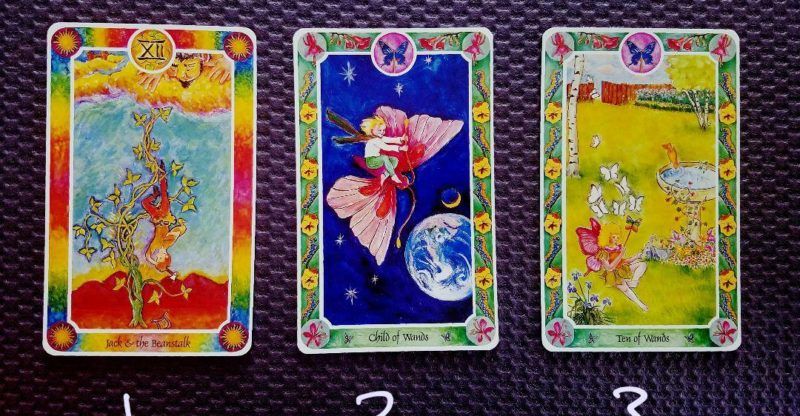 These three inner child cards help you discover areas that may need healing, more attention, or more appreciation.
Alright, results are here. If you haven't already – pick card #1, 2, or 3 and receive a special message from Spirit.
So, which one have you chosen?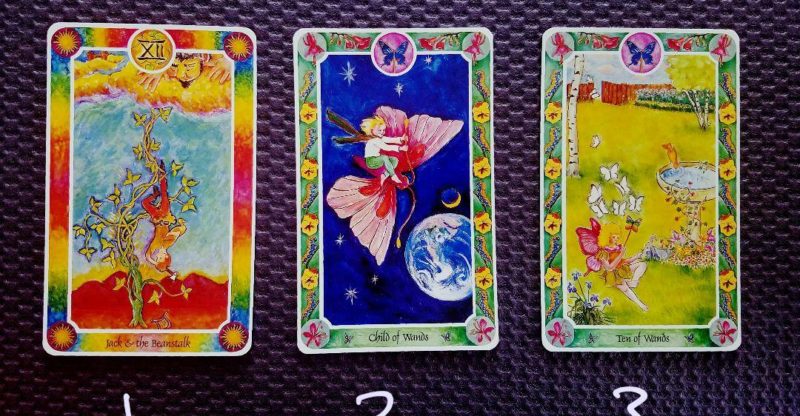 Card #1
Inner Child Card: Jack and the Beanstalk
As a child you may have grown up in an environment that was intense, combustive, or centered around hard work, discipline, and/or responsibility. You may have felt you needed to do x, y, and z to succeed or be enough. As a result, throughout life, you may have felt an urge to gain status, respect, or acceptance from others, including yourself. This is because you've been like the horse chasing the carrot –> always seeking something that is just out of reach so that you can continually tell yourself that you are not prepared/successful/qualified or good enough to claim your prize (a self-fulfilling prophecy and way of justifying where you feel you lack). Your struggle is this: you sometimes lack perspective which can result in goals seeming disproportionately far away (even when they are right within your grasp); your self-esteem and body image may fluctuate from day-to-day & even your world or life outlook can change as quickly as the weather.
Spirit says to "live life and not let life live you."
Find that anchor that keeps you grounded and clear, stop repeating past behaviors that have led you down the same road time and time again, and embrace the person that you are today – imperfections and all. Give yourself a break and stop comparing yourself to others or worrying about outside expectations. Happiness comes from within. As such, how can you bring more of this into your life? What can help you to appreciate, feel grateful for, and enjoy all the small moments that make up you day, month, and year? THAT is where you need to start.
Card #2
Inner Child Card: Child of Wands
As a child you've had a very active imagination. You were careless and free and so present in the moment. Life was fun and exciting and new adventures and discoveries awaited you at every turn. You weren't hindered by fears, anxiety, or depression. You were driven by wonder and curiosity and the thrill of being alive! Everything was so new and your trust in the world was high.
This card is asking you to get in-touch with this side of your nature. Connect with the things that you love!
Be present and engaged! With time, you may have forgotten how exciting and adventurous life can still be! You don't need to take a vacation to enjoy each day of your life – you just have to fill it with things that you love, people you care about, and activities that actually interest you! Let's get that sparkle back in your eyes and remove those limitations or heavy mindsets that bog you down. It's time to play, laugh more, lighten up and enjoy the ride!!
Challenge yourself, face a fear, do something different, take a class, visit a museum, go out with a friend, go to the roller/ice skating rink, stay for a night at a hotel with a pool – whatever lights you up; whatever makes you feel alive – Do it!!! Because why? Because you CAN!! (and slap that part of you that's telling you otherwise! 😉 lol)
Card #3
Inner Child Card: Ten of Wands
Wow, the energy here is very soft and serene. You can occupy yourself just fine and you also have a very special gift of connecting with the animals. Did you know that? Even nature enjoys your presence and can sense your love. This is a gift and what's interesting is that I don't think you are even fully aware of the positive effect that you have on these things. To be such a healing force is natural to you. This is a wonderful blessing! At the same time, you may often attract those that need healing towards you. This can be good but it can also be draining.
Just make sure you are replenishing yourself and surrounding yourself with those that do not always take from you.
As someone who has so much to give, you may do so very freely. Your capacity for this is much more than most and I actually do see you receiving this love in return. I also see you being in a very good place mentally, emotionally, and physically.
If this is something that has been important to you, then this is very good news! Otherwise, it is just an affirmation and validation that you are living your purpose, fulfilling your destiny, and are so beautiful and magnificent just as you are.
Also, I can see you moving towards being more gentle in your diet – eating things that nourish you and make you feel better. I can also see you valuing life more and maybe bringing new life to your world through a plant, a pregnancy, an animal, or even a partner. (I mean honestly, THIS is an amazing reading with so much goodness here, what else can I say except – just enjoy it – enjoy being you & enjoy the gift that you truly are. I'm really just sitting here appreciating you right now as well. Thank you for being who you are and for coming to this planet to help heal it; for shining your light and showing us the way and for being a part of my life and the lives that you have so lovingly touched as well. You have my deepest, most sincerest gratitude because I see you.
I really see you and the amazingness that you are :-)
Source: this article was originally written by Bronz and published in October 15, 2018 on inner-intuitions
Please Note: this article has been re-posted without prior written consent by the original Author. Link to the original article and site can be found above this disclaimer. If you are the Author of this post and you think that we are not re-posting it under the realm of 'fair-use', please contact us
earthangelshouse@gmail.com