Archangel Michael has brought you here!
Which photo resonates with you the most at this moment? Pick the number and then see what message Archangel Michael has for you!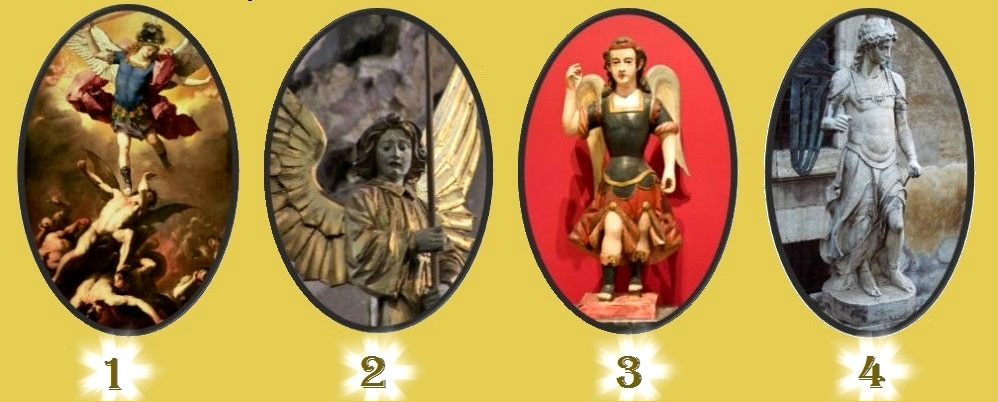 Archangel Michael Photo 1
Archangel Michael is calling on you to make a commitment. Please ask for his help with the courage and confidence to take on the task at hand that you've been afraid to commit to up until this point. He lovingly reminds you that change comes first with making the decision and then the commitment of taking action. He is by your side to protect you and guide you safely forward on the path you choose, but the key is that you must choose and then commit first before any progress can be made.
Archangel Michael Photo 2
Archangel Michael is the right hand of God and and dutifully carries out the Creator's commands. At this time you are in the middle of a situation that you must simply turn over to God so that the Archangel Michael may move forward for the highest good of all involved. He lovingly tells you that you have done all that you can yourself up until this point and now you must have the faith in the Divine Creator that everything will play out as it should going forward for everyone's highest good that is involved.
Archangel Michael Photo 3
You are currently asking to have more trustworthy people placed into your life so that you may enjoy those around you. Ask Archangel Michael to help you alleviate the fears and mistrust that you currently old from the wrongs that have been done to you in the past. Law of attraction is what brings in the people that surround you or keeps those currently present. If you come from a place of love and faith you will bring in people that are loving and faithful. Ask the Archangel Michael bring in people that will benefit your life going forward and to help you recognize the ones that will not. He is the one to call on when you are requesting trustworthy people to be in your life.
Archangel Michael Photo 4
Archangel Michael is asking you to kindly be gentle on yourself at this time. He feels that you are being much too hard on yourself. Now is the time to treat yourself gently with the nurturing love that you usually save for others.
He can help you know that you deserve the compassion and be genuine in the forgiveness that you allow yourself as you move forward into the future.
Article Source: mssnaturalbeauty
Please Note: this article has been re-posted without prior written consent by the original Author. Link to the original article and site can be found above this disclaimer. If you are the Author of this post and you think that we are not re-posting it under the realm of 'fair-use', please contact us earthangelshouse@gmail.com