Top 30 Spiritual Awakening Signs: How Many do You Have?
Are you experiencing changes in your sleep patterns or other 'strange' signs? Quite likely, you're experiencing a spiritual awakening. Here are the Top 30 signs to look for.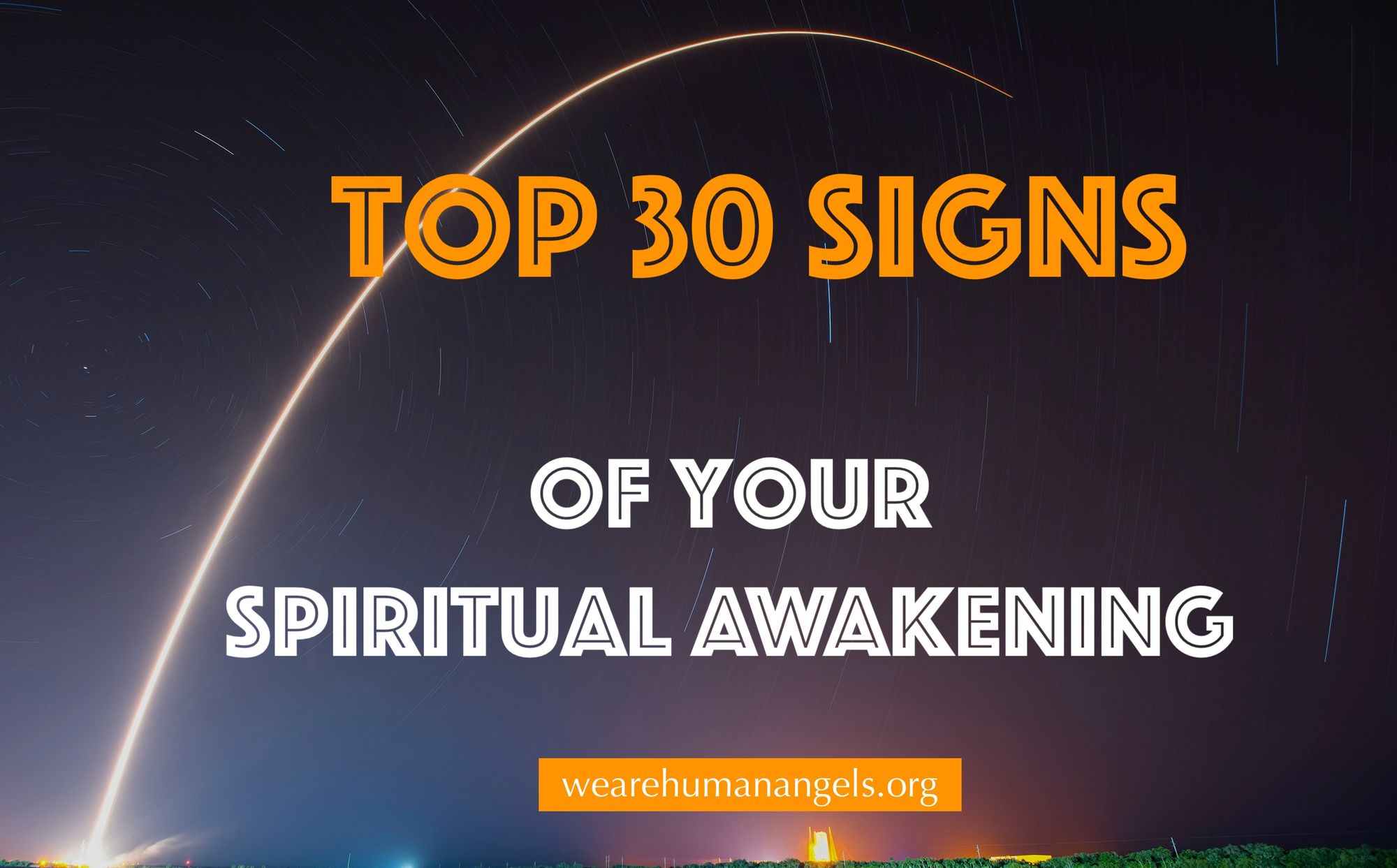 Going through a spiritual awakening is one of the most confusing, lonely, alienating, but also supremely beautiful experiences in life.

When you begin to experience your spiritual awakening you begin to see things differently. Find out if you're having a spiritual awakening by looking at the top 30 signs:
1. Changing sleep patterns: restlessness, hot feet, waking up two or three times a night.
Feeling tired after you wake up and sleepy off and on during the day. There is something called the Triad Sleep Pattern that occurs for many: you sleep for about 2-3 hours, wake up, go back to sleep for another couple of hours, wake again, and go back to sleep again. For others, the sleep requirements have changed. You can get by on less sleep. Lately I have been experiencing huge waves of energy running into my body from the crown. It feels good, but it keeps me awake for a long time, then subsides. Advice: Get used to it. Make peace with it and don't worry about getting enough sleep (which often causes more insomnia).
You will be able to make it through the day if you hold thoughts of getting just what you need.
You can also request your Higher Self to give you a break now and then and give you a good, deep night's sleep. If you can't go back to sleep right away, use the waking moments to meditate, read poetry, write in your journal or look at the moon. Your body will adjust to the new pattern.
2. Activity at the crown of the head:
Tingling, itching, prickly, crawling sensations along the scalp and/or down the spine. A sense of energy vibrating on top of the head, as if energy is erupting from the head in a shower. Also the sensation of energy pouring in through the crown, described as "sprinkles". This may also be experienced as pressure on the crown, as if someone is pushing his/her finger into the center of your head. As I mentioned in #1, I have been experiencing huge downloads of energy through the crown. In the past, I have felt more generalized pressure, as if my head is in a gentle vise. One man related that his hair stood on end and his body was covered with goosebumps.
:: Advice: This is nothing to be alarmed about. What you are experiencing is an opening of the crown chakra. The sensations mean that you are opening up to receive divine energy.
3. Sudden waves of emotion.

Crying at the drop of a hat. Feeling suddenly angry or sad with little provocation. Or inexplicably depressed. Then very happy. Emotional roller coaster. There is often a pressure or sense of emotions congested in the heart chakra (the middle of the chest). This is not to be confused with the heart, which is located to the left of the heart chakra.
:: Advice: Accept your feelings as they come up and let them go. Go directly to your heart chakra and feel the emotion. Expand it outward to your all your fields and breathe deeply from the belly all the way up to your upper chest. Just feel the feeling and let it evaporate on its own. Don't direct the emotions at anyone. You are cleaning out your past. If you want some help with this, say out loud that you intend to release all these old issues and ask your Higher Power to help you. You can also ask Grace Elohim to help you release with ease and gentleness. Be grateful that your body is releasing these emotions and not holding onto them inside where they can do harm. One source suggests that depression is linked to letting go of relationships to people, work, etc. that no longer match us and our frequencies. When we feel guilty about letting go of these relationships, depression helps us medicate that pain.
4. Old "stuff" seems to be coming up, as described above, and the people with whom you need to work it out (or their clones) appear in your life.

Completion issues. Or perhaps you need to work through issues of self-worth, abundance, creativity, addictions, etc. The resources or people you need to help you move through these issues start to appear.
:: Advice: Same as #3. Additionally, don't get too involved in analyzing these issues. Examining them too much will simply cycle you back through them over and over again at deeper and deeper levels. Get professional help if you need to and walk through it. Do not try to avoid them or disassociate yourself from them. Embrace whatever comes up and thank it for helping you move ahead. Thank your Higher Power for giving you the opportunity to release these issues. Remember, you don't want these issues to stay stuck in your body.
5. Changes in weight.

The weight gain in the US population is phenomenal. Other people may be losing weight. We often gain weight because many fears we have suppressed are now coming up to the surface to be healed. We react by building up a defense. We also attempt to ground ourselves or provide bulk against increasing frequencies in our bodies.
:: Advice: Don't freak out, but just accept it as a symptom of where you are right now. You will release/gain the weight when all your fears have been integrated. Release your anxiety about this. Then you might find it easier to lose/gain the weight eventually. Exercise. Before eating, try this: Sit at the table with an attractive place setting. Light a candle. Enjoy how the food looks. Place your dominant hand over your heart and bless the food. Tell your body that you are going to use the food to richly nourish it, but that you are not going to use the food to fulfill your emotional hungers. Then pass your hand from left to right over the food and bless it.
You may notice that the food feels warm to your hand even if the food is cold– I like to think that the food is good for me when it feels warm and nourishing to my hand. I have also noticed that when I practice blessing the food, I don't eat as much. It is important not to let yourself off the hook when you forget to bless the food before you eat. If I've forgotten and I've nearly finished eating, I bless the food anyway. That way I don't slip out of the habit. Another thing you can do is to stay present while eating — don't watch TV or read. Heartily enjoy what blessings are before you.
6. Changes in eating habits: Strange cravings and odd food choices.
Some find they are not as hungry as they used to be. Or hungrier.
:: Advice: Don't deny what your body tells you it needs. If you are not sure, you might try muscle-testing before you chose a food to see if it's what your body wants. Also try blessing the food as described in #5.
7. Food intolerances, allergies you never had before.
As you grow more spiritual, you are more sensitive to everything around you. Your body will tell you what it can no longer tolerate, as if it, too, is sloughing off what doesn't serve it anymore. You might be cleansing yourself of toxins. Some people find they often have a white residue in their mouth, much like that of runners at the end of a race.
:: Advice: An acupuncturist told me that this film can be removed by sloshing 2 tablespoons of cold-pressed olive oil in your mouth for 10-15 minutes (don't swallow, whatever you do), then spitting it out into the toilet — not the sink, for you just removed toxins from your body and don't want them in the sink. Brush your teeth and do the same. Then clean your brush. (Sorry this is yukky, but itworks.)
8. Amplification of the senses.
Increased sensitivity.
8a. Sight: Blurry vision, shimmering objects, seeing glittery particles, auras around people, plants, animals, and objects. Some report seeing formerly opaque objects as transparent. When you close your eyes, you no longer see darkness, but redness. You may also see geometric shapes or brilliant colors and pictures when eyes are closed. Colors appear more vivid — the sky might look teal orthe grass an amazing green. Often I see grids running across the ground. As you become more sensitive, you may see shapes or outlines in the air, especially when the room is almost dark. When your eyes are open or closed, you may see white shapes in your peripheral vision (these are your guides).
:: Advice:Your vision is changing in many ways — you are experiencing new ways of seeing. Be patient. Whatever you do, do not be afraid. Hazy vision maybe relieved by yawning.
8b. Hearing: Increased or decreased hearing. I once thought I would have to pull off the road because of the painfully amplified sound of my tires on the freeway. Other symptoms are hearing white noise in the head, beeps, tones, music or electronic patterns.Some hear water rushing, bees buzzing, whooshing, roaring or ringing. Others have what is called audio dyslexia– you can't always make out what people are saying, as if you can no longer translate your own language. Some hear strange voices in their dreams, as if someone is hovering near them. You can either ask the presence(s) to leave or ask Archangel Michael to take care of the situation. Again, there is nothing to fear.
:: Advice: Surrender to it. Let it come through. Listen. Your ears are adjusting to new frequencies.
8c. Enhanced senses of smell, touch, and/or taste. I notice I can now smell and taste chemical additives in some foods in a rather unpleasant manner. Other food may taste absolutely wonderful. For some people, these enhancements are both delightful and distracting. You might even smell the fragrance of flowers now and then. Many of the mystics did. Enjoy it.
9. Skin eruptions:
Rashes, bumps, acne, hives, and shingles. Anger produces outbreaks around the mouth and chin. I had a dermatitis on my extremities for several months that accompanied healing an episode from my past. When I had worked through most of the issue, the condition was released.
:: Advice: You may be sloughing off toxins and bringing emotions to the surface. When there is an issue to be released and you are trying to repress it, your skin will express the issue for you until you process the emotions. Work through your "stuff".
10. Episodes of intense energy which make you want to leap out of bed and into action.

Followed by periods of lethargy and fatigue. The fatigue usually follows great shifts. This is a time of integration, so give into it.
:: Advice: Roll with the nature of the energy. Don't fight it. Be gentle with yourself. Take naps if you are tired. Write your novel if you are too energized to sleep. Take advantage of the type of energy.
11. Changes in prayer or meditation.
Not feeling the same sensations as before. Not having the same experience of being in contact with Spirit. Difficulty in focusing.
:: Advice: You may be in more instant and constant communion with Spirit now and the sensation may therefore be altered. You will adapt to this new feeling. You are actually thinking and acting in partnership with Spirit most of the time now. You may find your meditation periods shorter.
12. Power surges:
All of a sudden you are heated from head to toe. It is a momentary sensation, but uncomfortable. In contrast, some people have felt inexplicably cold. I have experienced both. More recently I experience waves or currents of energy rolling through me. Sometimes the energy seems so intense when it first comes into my body that I feel a little nauseated. But if I think of the energy as divine and let go of fear, I feel wonderful and enjoy the sensation. If you are an energy worker, you may have noticed that the heat running through your hands has increased tremendously. This is good.
:: Advice: If you are uncomfortable, ask your Higher Power, that if it be for your best and highest good, to turn down/up the temperature a bit.
---
13. A range of physical manifestations:
Headaches, backaches, neck pains, flu-like symptoms (this is called vibrational flu), digestive problems, muscular spasms or cramps, racing heartbeat, chest pains, changes in sexual desire, numbness or pain in the limbs, and involuntary vocalizations or bodily movements. Some of us have even had old conditions from childhood reappear briefly for healing.
:: Advice: Remember what I said about seeking medical help if you need it! If you have determined that this is not a medical condition, relax in the realization that it is only temporary.
14. Looking younger.
Yippee! As you clear emotional issues and release limiting beliefs and heavy baggage from the past, you are actually lighter. Your frequency is higher. You love yourself and life more. You begin to resemble the perfect you that you really are.
15. Vivid dreams.
Sometimes the dreams are so real that you wake up confused. You may even have lucid dreams in which you are in control. Many dreams may be mystical or carry messages for you. And in some dreams, you just know that you are not "dreaming" — that what is happening is somehow real.
:: Advice: You will remember what is important for you to remember. Don't force anything. Above all, stay out of fear.
16. Events that completely alter your life:
Death, divorce, change in job status, loss of home, illness, and/or other catastrophes — sometimes several at once! Forces that cause you to slow down, simplify, change, re-examine who you are and what your life means to you. Forces that you cannot ignore. Forces that cause you release your attachments. Forces that awaken your sense of love and compassion for all.
17. A desire to break free from restrictive patterns, life-draining jobs consumptive lifestyles, and toxic people or situations.
You feel a compelling need to "find yourself" and your life purpose — now! You want to be creative and free to be who you really are. You might find yourself drawn to the arts and nature. You want to unclutter yourself from things and people that no longer serve you.
:: Advice: Do it!
18. Emotional and mental confusion:
A feeling that you need to get your life straightened out–it feels like a mess. But at the same time you feel chaotic and unable to focus. See #45.
:: Advice: Put your ear to your heart and your own discernment will follow.
19. Introspection, solitude and loss of interest in more extroverted activities:
This stage has come as a surprise to many extraverts who formerly saw themselves as outgoing and involved. They say, "I don't know why, but I don't like to go out as much as before."
20. Creativity bursts:
Receiving images, ideas, music, and other creative inspirations at an often overwhelming rate.
:: Advice: At least record these inspirations, for Spirit is speaking to you about how you might fulfill your purpose and contribute to the healing of the planet.
21. A perception that time is accelerating.
It seems that way because you have had so many changes introduced into your life at an unprecedented rate. The number of changes seems to be growing.
:: Advice: Breaking your day up into appointments and time segments increases the sense of acceleration .You can slow time down by relaxing into the present moment and paying attention to what's at hand, not anticipating what's ahead. Slow down and tell yourself that you have plenty of time. Ask your Higher Power to help you. Keep your focus on the present. Try to flow from one activity to the next. Stay tuned to your inner guidance. You can also warp time by asking for it. Next time you feel rushed, say, "Time warp, please. I need some more time to —–." Then relax.
22. A sense of impendingness.
There is a feeling that something is about to happen. This can create anxiety.
:: Advice: There is nothing to worry about. Things are definitely happening, but anxiety only creates more problems for you. All your thoughts — positive or negative– are prayers. There is nothing to fear.
23. Impatience.
You know better, but sometimes you can't help it. You want to get on with what seems to be coming your way. Uncertainty is not comfortable.
:: Advice: Learn to live with the uncertainty, knowing that nothing comes to you until you are ready. Impatience is really a lack of trust, especially trust in your Higher Power. When you focus on the present, you will experience miracles — yes, even in traffic.
24. A deep yearning for meaning, purpose, spiritual connection, and revelation.
Perhaps an interest in the spiritual for the first time in your life. "Constant craving", as k.d. lang says. The material world cannot fulfill this longing.
:: Advice: Follow your heart and the way will open up for you.
30. Portents, visions, "illusions", numbers, and symbols: Seeing things that have spiritual importance for you. Noticing how numbers appear synchronistically in your awareness. Everything has a message if you take the time to look. I enjoy the experience of "getting the messages." What fun!
>
Article source: originally written by Annarita and published via consciousreminder.com - Original title : How Many of These 30 Spiritual Awakening Symptoms do YOU Have?
Please Note: this article has been re-posted without prior written consent by the original Author. Link to the original article and site can be found above this disclaimer. If you are the Author of this post and you think that we are not re-posting it under the realm of 'fair-use', please contact us earthangelshouse@gmail.com