Mandalas reflect a certain state of the world inside a person.
Mandalas are circles which Buddhists use to represent the Universe and they are seen as matrices of the Cosmos in these teachings.
They help the person learn about their personality and how to become better person.
Select the Mandala you like the most and read the meaning of your choice.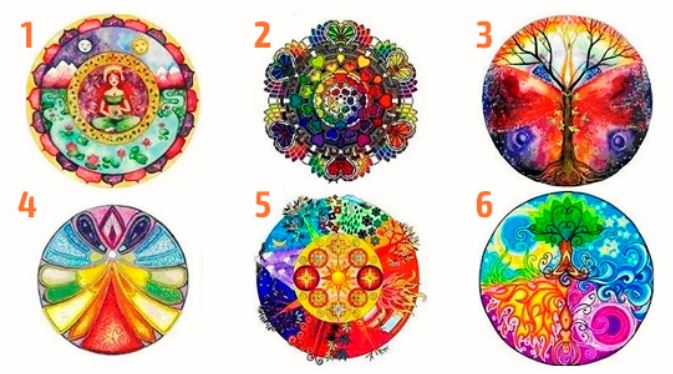 1. Generosity and morality
You try to be better, you have lofty ambitions and standards. People can have a hard time getting along with you, but for you, it's even harder to get along with yourself. You work hard, but not for your own good. You work because you want to make the world a better place. You love, as long as you aren't hurt. And afterwards… you still don't stop loving. Very few people can appreciate everything you do.
2. Fascination and truthfulness
You are a responsible person, who likes to take care of others. You believe in honest work and easily take responsibility. You have good character and inspire confidence in others. Your personality shines bright, you are quick and witty. You always have an interesting story to tell.
3. Open mind and consideration
You are a great thinker. Your thoughts and ideas are most important. You like to think about your theories and points of view alone. You are an introverted person. You get along with those who like to think and learn. You are a thorough person. You spend a lot of time thinking about morality. You try to do the right thing, even if a large part of society doesn't agree with you.
4. Shrewdness and Philosophy
You are one of a kind. No one even comes close to you. You have an intuitive personality and you are a little strange. You are generally misunderstood and that hurts you. Personal space is important to you. Your creativity needs to be developed and requires respect from others. You are a man who sees clearly, both the light and dark sides of life. You are very emotional.
5. Confidence and command
You are very independent. Your motto is "do it yourself". You only trust yourself. You know how to maintain your own strength of spirit and that of your loved ones. You know what you want and aren't afraid to go and find it. The only thing you need from others is that they be honest with you. You are ready for the truth.
6. Nobility and sensitivity
You can easily build relationships with people. You have lots of friends, and you like making their lives better. You have a warm, bright aura. People feel relaxed in your presence. You think about how to improve yourself each day. You want to be interesting, deep and unique. You need to be loved more than anybody else. You are willing to love even those who don't respond to your love.
Read next: Find your Guardian Angel using your Birth Date
Article source zen-magazine
Please Note: this article has been re-posted without prior written consent by the original Author. However, we were granted permission by Upliftconnect to re-post this article. Link to the original article and Author can be found above this disclaimer. If you are the Author of this post and you think that we are not re-posting it under the realm of 'fair-use', please contact us earthangelshouse@gmail.com