Your Favorite Card Has a Secret Message For You!
Take a deep breath and calmly look at the pictures of these cards for a brief moment. Which one of these pictures are you drawn to the most?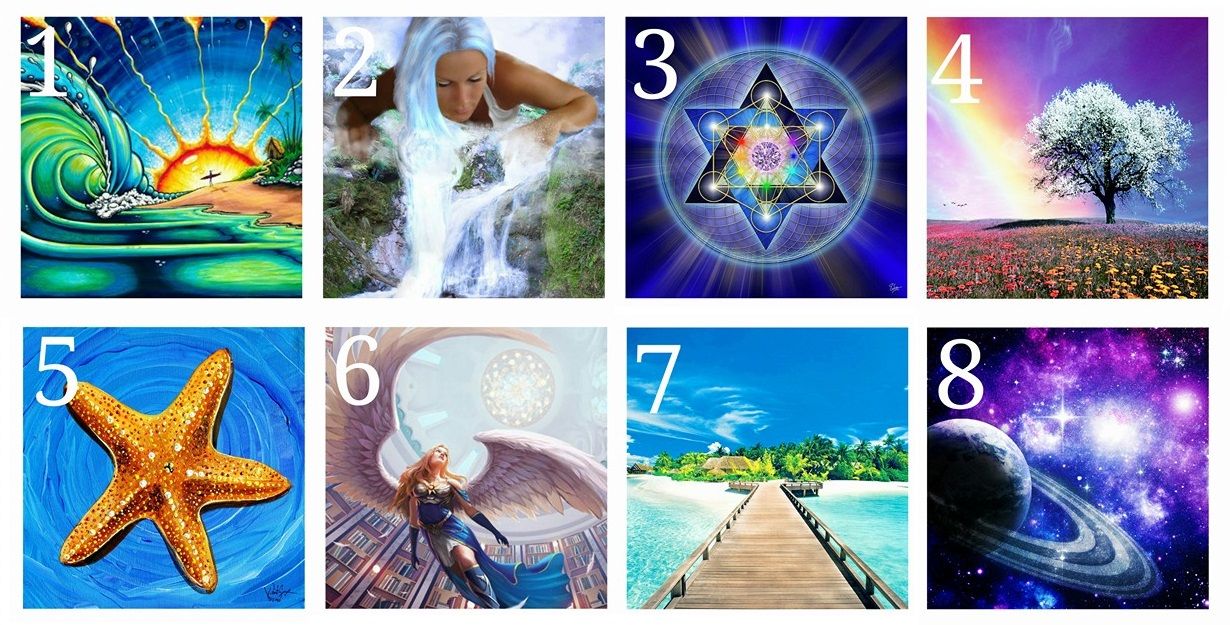 Take a deep breath and calmly look at the pictures of these cards for a brief moment. Which one of these are you drawn to the most? Scroll down to read the messages each one reveals.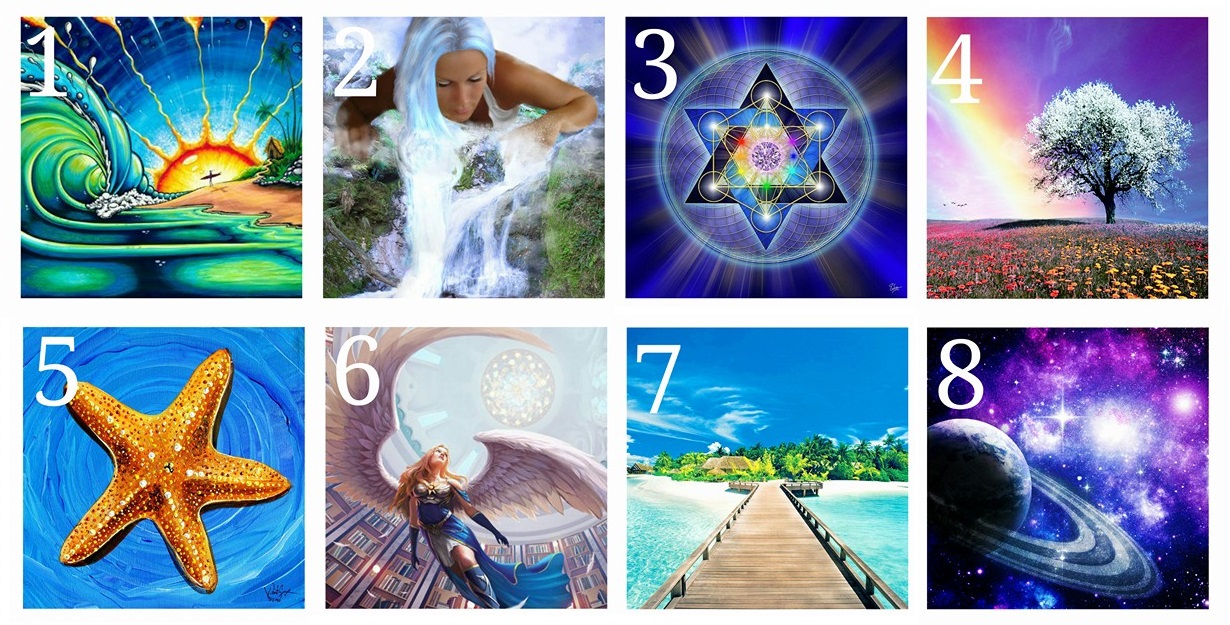 ************* REVEAL ******************
1.
Think of how you feel when you are smiling. Did you instantly think of carefree moments in your life? Notice how when you are smiling, you are no longer concerned with such mundane things as stress, time restrictions or even pain. While it is said that "laughter is the best medicine," many have forgotten the important step of prescribing laughter for our ailments. Smile now, not just with your mouth, but with your eyes too. Smile so that you are beaming out positivity to all those around you. Now do you not feel better? It is amazing how such a small, seemingly insignificant act can make a world of difference to your energy, spreading in a ripple effect to those around you. Make an effort to smile as you go through your daily routine. Share your beautiful grin with others you may or may not know.

This is how the angels are guiding you to bring light to your community. You might like to write the word Smile on a note and stick it on your desk. This way, when you see it, you will be reminded to smile, reducing your tension and improving your work. Stick a smiley face on your refrigerator, and take a cue from it as you open the door; you will be surprised to find how it changes your food choices. Make the effort to smile as you leave for work, drop the kids off at school, or go shopping. This is the image you want people to have of you. A smiling face is a beautiful thing. Additional Meanings for this card: Bring laughter to others; your moods are lifting; your energy levels rise as your emotions do.

# 2. **Even though you may not see me, I am holding your hand. Even though you may not hear me, I am speaking through your heart. I am never far away from you. I am by your side, with love, guidance and protection, always.** You are my own! I could not bear to be apart from you. receive my message of comfort and peace, now. Our Lady Of Comfort brings you angels of peace. She is at your side. If you have wondered if the Divine is more real than you ever believed, if you have been in conscious divine connection, the oracle of Our Lady Of Comfort confirms this. If you have been having the opposite experience, perhaps finding it difficult to feel lightness, joy or happiness for some time, or finding it so hard to meditate or connect with yourself or your spiritual center, Our Lady Of Comfort is telling you she is still with you, and this time too shall pass. If you have been trying to be strong, perhaps for the benefit of others who are grieving or in the stressful life situations, or if you have been feeling alone, not really held or heard by others, this oracle comes with a particular message.

The Divine Mother hears you, knows you, loves you. She asks you pray to her, so that she may help you, that you may attract the comfort, connection and support that you need, not only from spiritual sources, but also in human form in the material world. You are worthy of this support too, and she asks that you do not allow your strength to isolate you, or prevent you from receiving the love that you need. If you have been in chronic pain, either emotional or physical, and are suffering without relief, or you know of someone in such a situation, please pray to the divine Mother Mary, Our Lady Of Comfort, to bring spiritual blessing and the divine assistance or relief. The Divine Mother will offer what will most serve, with mercy and compassion, and you can certainly pray for her help for yourself and others.
If you are suffering a loss or disappointment, she comes to you specifically with this message: sometimes there is sacrifice of "what could have been" on the alter of a different future.
Grieve what has not come to pass but know that there is plenty of life yet to be lived, and dreams to be fulfilled. Those dreams may be fulfilled in a way that is surprising, or may yet be fulfilled in the way that you once imagined that they would, but the divine timing is perfect and serves you.
Receive her comfort and know that all is not lost. If you have been worrying about a situation in your life, that Divine Mother asks that you imagine her soothing you gently, like a mother with a child. She asks that you know that you have more than enough strength and resourcefulness to attract to you what you will need to allow that situation to resolve itself. She is with you, helping you. Pray to her for help and allow her to help you. Our Lady Of Comfort also reassures us that whatever is happening in our lives, whether obviously healing and supportive or not, is helping us grow spiritually. We can always pray to her for assistance and support. She will answer all our prayers.
Yet we can also know that if we are struggling in some way, this is not a sign that something is wrong, or that we are being punished, or are "not getting" some lesson or other. We are just growing. Imagine a child taking their first steps.
There can be a few great strides, and perhaps at least a few wobbles as well. The Divine Mother is there, with her arms open, calling you forward with delight into the next phase of your life path. Finally, if you have been hearing loving words in a song that stick in your mind, or finding white feathers on the ground, or seeing many churches – more than usual – or seeing artwork of the Divine Mother, or feeling new sensations of love in meditation, and you have been wondering if it all means something, the oracle comes with this answer: Yes. The Divine is reaching for you and making its presence more felt, so that you know it is real, and with you always.
3.
It is only this physical reality that is bound by time and space. You are being conscious on levels beyond the physical world. You are guided to work with your healing powers beyond the confines of time and space and to allow your sense of Self to expand. It is safe for you to do this now. You will not become ungrounded through such spiritual growth. You are not leaving your earthly awareness, you are instead adding to it. You are growing in power and awareness. You have had breakthrough insights where you realize that you are not who you thought you were, you are in fact a much vaster being.
Sometimes this was shocking and uncomfortable, and difficult to accept. At other times it was gentle and made much sense to you. You are learning to integrate this awareness of your vast Self into your life. The practical consequences of doing so are extraordinary – to live with less and less fear and insecurity, to become more detached and more passionate, more loving and less demanding, to need less and receive more, to feel more joy and exert less force to attain it… Such wonderful gifts await you! You also become capable of exerting healing influence beyond time and space, which means being able to help free yourself and others, if you choose to share your healing gifts. You can lean to create freedom from trauma, attachment, history and any other situation that may drain life force and distract from Divine Love, no matter whether occurring in this or any other lifetime. Isis guides you to powers and abilities to heal that are beyond time and space.
It starts with the realization that what has happened in the past has power over you only to the extent that you allow it.
The portal of light is being opened to you now to travel through time and space to release the past, to open up to a future bright and to call for more power in the present moment. Once you have done this for yourself, if you are guided into the healing path, then you can share this with others. Be guided by the loving blessing of Isis to assist you in this sacred inter-dimensional travel now for healing and understanding, more growth and peace. The Oracle of the Portal Of Light also brings special guidance that a phase of time or experience is over and a new cycle at a higher vibrational turn of the spiral is beginning, so prepare to ascend. Expect things to become lighter, freer and faster moving in your life, even perhaps whilst you appear to be more surrendered and more peaceful within yourself.
4.
Your integrity has led to healing and unity, which gives you vast potential, and this surge of energy brings with it the ability to prosper, a continual flow of energy to be invested. Being at one with who you are destined to be can also lead to the power to create good fortune for yourself. This abundance, which will come lovingly and safely, can result in a time where you take your place in the world. You are now at home with your sensitivity, your psychic abilities, and you are able to help the world simply through being yourself, who you are at your core, and using your beautiful, innate, intuitive talents. You are in tune with this new earth energy.
We all have this capacity – regardless of age, religion, race, creed, family background, and our own issues, every human has the chance to change into a person with a higher purpose. When we live from that place, we are truly peaceful, content, and abundant. We are like children coming home when we move into this energy and embrace this planet, for the planet in her turn embraces us, and showers us with gifts. You are one of the leaders of this change, one who shows the way, from the light they share each day in simple ways. You are a wonderful person with a divine mission. You are important to the planet. You are moving into a time of physical health, joy, enthusiasm and the wonderful energy of optimism. Strong and joyful, others will embrace the examples you offer at this time.
5.
You were not born to play a small role in life. You have the ability to dream big. Even if you have absolutely no idea about how your visions can come to pass or what all the details may look like, you can access the heart and guts of a vision by tapping into your wildest dreams and surrendering attachment to exactly how it will all work out. The details are up to the creative genius of the universe. You are an active, contributing participant but not the sole player in your life journey.
There is something – a vision or an idea – that is coming to you.
You may worry that it is too much for you. But, don't worry. It is mean to be yours. Although you might have some adjustments to make and some tweaking to do as you let go of your limited thinking and open up to a fearless acceptance of bigger, brighter, more radical and more potent possibilities of creatively living your light in the world. A sign that you are cracking out of your limited thinking, to allow for a big, bold vision to come to you, is that you might feel a little dizzy with the shrinking limitations and expanding possibilities of life. You may wonder if you are allowed to access so much wonder! Remember that in your healing and growing success as you manifest this big vision, you can touch the hearts of others through your presence, your inner work, your art and your choices. It is a win-win situation!
Those that are meant to live big, bold and visionary lives need to give themselves permission to break the mold and forge newer, more expansion perspectives of what is possible, what is permitted and what is of service. It's about letting go and opening up. Others will benefit from this. Even though it is your vision, it is not just about you! You are being asked to remember that when something is right for you, endless synchronicities and support will flow your way, at the right time and in the right way. Stay open, receptive, playful and surrendered. This oracle brings you a message. You are about to receive or be invited to become part of, a grand visionary beginning. It has the makings of something fantastic.
No matter how the journey that brings this vision into reality unfolds – and there will be some twists and turns that you don't see coming – it is still helpful for you to be open to it.
Trust your heart, be still with your choices and when the time feels right and truthful, leap! This oracle brings a message for those who would like to further develop their intuitive insight.
It is already happening. Trust in what you perceive. Even if it conflicts with what everyone else around you is saying or the surface of things, trust your inner perceptions. They are accurate and will be proven to e so later on. This oracle brings a general message of positive energy. Trust that things will be coming up roses for you. Even if everything seems to be in a bit of a shambles now, it's really just the essential mess before a truly spectacular success.
6.
The angels are trying to help you with the topic of your question by urging you to heal anger related to your past experiences and relationships. This old anger has become a barrier to attracting your desires, as well as a magnet that attracts similar situations to your side. This is a very important message, and your little bit of willingness to forgive is all that is required. You do not need to forgive the action that occurred in your past. You simply need to be willing to allow the angels to help you clear away the toxic poison of unforgiveness from your heart and mind. In this regard, you are trading pain for peace. The benefits of forgiveness include increased peace of mind, renewed energy, and the ability to focus.
Action Steps: In a quiet location or while falling asleep, say the following either out loud or silently (the angels hear your thoughts): "Archangel Raphael, I call upon you now. I am Willing to forgive (name of person, organization, or situation) and release all stored-up anger from my physical, mental, and emotional bodies. I am willing to release pain, in exchange for peace." Then breathe in and out deeply, which enables you to be open to Raphael's loving and powerful cleansing process. Repeat this step as necessary if you ever find yourself ruminating about anger or resentment.
7.
Health and well-being mean more than just freedom from disease; they are a radiant manifestation of balance in body, mind and joy, and peace is increased. We eat food to nourish our bodies, but every level of our being requires nourishment, which it takes from the sources available to it. Your quality of life reflects how you are nourished, how you nourish others, and the way you function in the world. Impressions – sensory, emotional, intellectual – are the food of the min. We receive a barrage of impressions from television, computers, music, movies, books and magazines, and often end up carrying too much "weight" in our heads. Simplify your life by eliminating anything that does not promote wholesomeness. You may be surprised to find that as you clean up your act you also start feeling better. Gradually eliminating whatever is no longer relevant – stuff, habits, relationships, or points of view – amounts to trimming the fat off your lifestyle.
Consider what it would be life to live with the people and things that help you to feel good about yourself. Then consider the extent to which you are willing to go to make that a reality. If you haven't paid much attention to your health, this is the time to begin. In attending to what the body's real needs, it is important to bring some awareness to what, where, and how you eat. If you frequently eat in a hurry, or "graze" at an open fridge, then you can be certain that you are also feeding your stress levels. Carefully choosing foods that are natural and wholesome and eating with intention sends a message to your entire being that it is worth nourishing.
Maintaining good health also means exercising. Physical exercise vitalizes the heart and circulatory system and enhances our general sense of well-being.
It clears cobwebs from an overfull mind by rerouting excess energy from the head into the body. Nourishment of the heart calls for healthy relationships in your life. Relationships require sensitivity to their subtle nuances, and should not be taken for granted. Habitual patterns of relating lead to indifference, lack of enthusiasm, or can't-be-bothered attitude that slowly but surely creates heartache. Nourish your relationships carefully, so that they may provide you and others with emotional sustenance.
Finally, how do you nourish yourself spiritually? Rest and relaxation put us back in touch with ourselves and nature. Make a conscious choice to tune our external distractions and turn your full attention inward. by sitting silently, relaxed and comfortable, simply observing your breath and your thoughts, you can cleanse your mind of tensions that deplete well-being. When a thought arises that grips your attention, relax your breath, let the tension go and return to neutrality. This is the simplest form of meditation, and it works. There are many different techniques to facilitate self-awareness, some very energetic, others more passive, and it's wise to experiment to find the way that feels right for you. Practicing a consciousness raising technique with regularity clears the mind, calms the emotions, and will enhance your ability to feel supported by the flow of change that is Tao.
8.
I surge on the uprising wave of love. No gravity can stop me from rising! The moon pulls the tide of life towards her, and my soul in oneness with all of life answers her call. A wave of love consumes me, and upwards I fly, flying through water, to greet her shinning body. Led by my heart, my wits are addled and my mind becomes a blurry mess; and so I feel instead, feel the truth of her love and the divine reflection she shines back at me from her radiant heart. Greater forces of planetary movements affect us all. We experience day and night through the interplay of the earth, the sun and the moon. This is a profound and obvious effect. The movements of the cosmos affect us deeply – body and soul. Some movements are perhaps less obvious in form, but are just as great – if not more so – in effect up on our spiritual growth and life experiences. You are going through a cycle – or very soon will be – by which you will be moved by forces greater than your own personal ill. This is a karmic period, a time during which the movements of greater planetary bodies will have an impact upon the earth and humanity.
This is the way of things, greater cycles affecting smaller ones. The smaller ones are not less important, but they do have to bow to the power of the great, in oneness with the magnificent unfolding divinity that is life itself. What we always have at our disposal is choice as to how we respond to these affecting movements and cycles. The effect of this karmic cycle now unfolding in your life is to bring you into sweet surrender and awakening into greater love. What a delicious divine destiny! However, even if we sense at one level that a shift has a positive end in store for us, we can encounter resistance and fear, born of the ego, in response to the stirring of spiritual uprising. We may quake in our holy body and wonder if everything is getting out of control and into some disorder. We will be right in our sense of imminent chaos! The disorder, however, is the ego perspective because its range of vision is too small, too limited, to comprehend the greater workings of the planetary systems that move life towards love. That is as it should be.
The teacup is not made to hold the ocean, just actually a cup of tea! But if we begin to imagine that the cup of tea is preferable to the ocean, simply because it is more containable, how much we miss out on! And how terrifying when we are actually thrown into the ocean and moved by it! Its sheer power, its wild force and its passionate dance with the Moon Mother might have us fearing that we most certainly will die. Yet the only thing that is dying here and now is your grasp, our attempts at control Why? Because your heart is more powerful than your fear and it wants to live in total trusting surrender of the unfoldment of life's genius. It wants to let life happen to it! What a wise intention that is. Why seek to impose a smaller and less interesting story upon life when the great master storyteller is weaving a fantastic tale of great love, great adventure and sublime spiritual success? No. It is wiser, wilder and more fun to surf the great wave of consciousness seeking to overtake you now. Dive in, Beloved. Surge with it.
You are being given a gift of grace in this oracle – the promise that you won't drown, and that you will, in fact, be given a glimpse of your own divinity should you choose to accept whatever will be offered to you. Don't try to swim against the tide of your own life journey. Go with it. The Divine is there waiting for you, orchestrating waves upon which you may reach the heavenly shore. Yes, the Divine is there waiting for you, waiting on a picnic blanket of fabric of the heavens, with a sacred feast of earthly bounty just now being unpacked in your honour. Get yourself into that ocean and ride those waves to your sacred date with the Divine right now, sweet beloved. Surf's up! This oracle comes with a message for you. There are changes happening and they will be out of your control. This is because you are ready for accelerated life change. Rather than paddling, you will be caught up in a wave and moved farther, faster.
Let yourself surge on with the energy of what is happening, leading with your heart and just going with whatever unfolds. This will bring you the best fortune and open you up to the divine destiny that is your birthright this lifetime.
Article Source: mssnaturalbeauty
Please Note: this article has been re-posted without prior written consent by the original Author. Link to the original article and site can be found above this disclaimer. If you are the Author of this post and you think that we are not re-posting it under the realm of 'fair-use', please contact us earthangelshouse@gmail.com